Recently I visited my aunt's quilt shop, Tatters, which is always a dangerous thing to do, but only because I bring my cheque book with me and I have very little resistance to bright and beautiful things, especially fabrics. She, herself, is a very safe person to be around. It's just her shop that poses peril.
At any rate, I left the store with enough fabric and then some to make each of my daughters a quilt of their own. Something I haven't done since each of them was born.
THEN, I decided my Brownies could make one, too and it would help them earn their Arts Badge.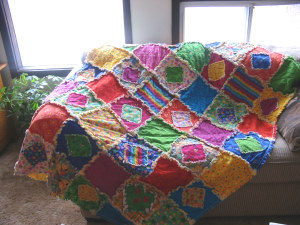 So last week, each Brownie sewed an X on their very own block and then I sewed those to the blocks I'd made and now we've got a beautiful rag quilt that we're raffling off at our Christmas Supper next week. Isn't it pretty?
Needless to say, I haven't started my daughter's quilts, but soon. Very soon, because I've promised.
AND THEN, I was Christmas shopping this morning and signed myself up for a mail order "block of the month" wallhanging kit by PineNeedles.
I love PineNeedles patterns. They are *beautiful* and the Bali fabrics they call for are absolutely gorgeous. You've never seen such exquisite colours blended together until you've seen them in a Bali.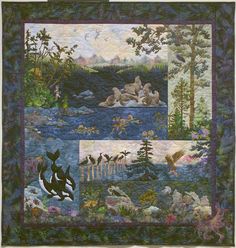 8 blocks for 8 months and I'll end up with this…
I guess I'd better get out my carving knife along with my cutting scissors so I can find some more time in my schedule.